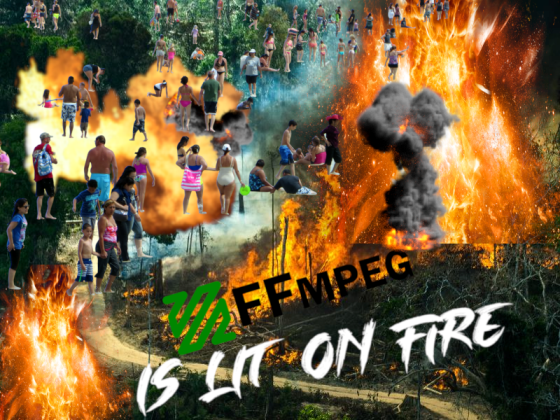 Každého zaujíma niečo iné, niekoho Blender, iného Cinebench, iného bottleneck v Minecrafte. Mňa zaujíma FFMPEG - mocný CLI-based nástroj pre manipuláciu s mediálnymi formátmi (mnohé, často platené SW sú len GUI blúzka cez ffmpeg), a Odkedy dorazil 12/24 Rezeň (a na ceste je 16/32 príadvok), tak mi to nedá spať a nemyslieť na to, či nemám z nich mokré sny len nadarmo, kedže síce nie som žiaden kontentkriéjtr, no pracujem s konverziou videí, takže som si pripravil taký vlastný benchmark a rád by som Vás poprosil o pomoc.
O čo ide?
Síce na joutub vidíme všetky tie krásne benchmarky typu Blender, PP a tak ale niektorí ako ja potrebujú konvertovať videá, konvertovať kodeky, pridávať filtre, redukovať bitrate...to všetko zadarmo s pomocou veľmi mocného FFMPEGu, a z dávnejšieho vlastného testovania NVENC, QSV a SW HEVC (de/en/trans)kódovania som si všimol, že niekedy viac zavážila frekvencia ako počet jadier, takže...
Hľadané procesory -

VŠETKY!


Super-duper link s tabuľkou s výsledkami - TU!
Chceš sa zapojiť? Ak by ste boli ochotní obetovať (asi, možno aj o dosť menej podľa CPU) 30 minút života, tak mrk tu
https://drive.google.com/uc?id=1vtk9zWSsPGYcOYumZW6GXVTLaLItY32U&export=download
je to archív s troma videami, ffmpeg binárkou a návodom - je to totálne jednoduché, doslova len pustíte tri príkazy a zapíšete dve hodnoty po skončení každej (všetko je v návode), no ak by som vás mohol poprosiť, nerobte počas toho na PC nič iné, nech to neovplyvní výsledky. Vyťažovať to bude v podstate len CPU. Ak by ste mi k tomu povedali aj to, či máte OC na CPU alebo nie a to isté pre RAM (frekvencia a časovanie), tak by to bola paráda.
Ak to niekoho zaujíma, tak v podstate sú tri testy:
1. 1080p video - konverzia H264>H265 + aplikovanie efektu ostrenia a pridania šumu, kompresia
2. 4k video - konverzia H264>H265, kompresia
3. 4k HDR video - konverzia HDR>SDR, kompresia
prvé dve by mohli reálne zabrať cca rovnako času, tretie by malo trvať najdlhšie, HDR>SDR konverzia je spleť mnohých filtrov (mapovanie farieb, konverzia farebného priestoru, gamma štandardu,...).
Na inom fóre sme už začali a už nazbierali niekoľko testov (ak tam uvidíte vaše CPU, aj tak testujte, nie je nič lepšie ako vidieť aj najmenšie variácie pri rovnakých produktoch, ktoré trošku rozvíria diskusiu a konšpiračné teórie, čo za tým stojí).
Tak...budem sa tešiť, ak sa niekto z vás objaví dole s výsledkami, naozaj som veľmi zvedavý, či zvíťazí počet vlákien, frekvencia alebo zdravá kombinácia oboch. Rád by som sa taktiež už konečne dohodol sám so sebou, čo je pre mňa ideálny procáček.
Každému zúčastnenému vopred Ďakujem! :nod: